Posts for: January, 2013
By Abington Family Dentistry, PC
January 15, 2013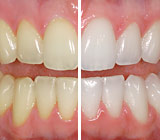 If you cringe at the appearance of your less than pearly whites when you look in the mirror, you are not alone. A frequently requested cosmetic procedure, teeth whitening is a very successful and relatively inexpensive way to enhance your smile. We can determine which whitening treatment will work best for you after performing a basic oral examination in our office. When will it work and when won't it? Here's some background:
Teeth most commonly become stained or discolored due to surface (extrinsic) changes, the most common of which are dietary and smoking. Foods including red wine, coffee, and tea can cause extrinsic staining. Teeth can also commonly become discolored or stained due to intrinsic (internal) reasons, such as changes in the structure of enamel or dentin or by incorporation of chromogenic (color generating) material into tooth tissue during formation or after eruption.
Toothpastes that claim to whiten teeth are only effective in removing plaque and other surface stains. Although most of these products contain mild abrasives that remove the plaque, they aren't capable of changing the underlying color of stained teeth.
Tooth polishing by your dentist or dental hygienist is effective in removing superficial staining, but will not change tooth color.
Teeth whitening systems work by bleaching, generally with the use of hydrogen peroxide. Using bleaching gels in custom made trays or whitening strips can be done at home, but is slow and the changes are gradual. We can perform quicker and more effective "power bleaching" in our dental office when precautions can be taken to ensure safety due to the higher concentrations of bleaching gels used. Teeth with intrinsic (internal) staining may need internal bleaching to whiten them and this can only be done in the dental office.
Teeth whitening results fade over time, but optimally last from six months to two years. Taking care of your newly whitened teeth by avoiding the foods, beverages, and habits that cause staining will help them remain whiter for longer.
If you have had previous cosmetic dentistry performed, including the placement of composite restorations, porcelain veneers, or crowns, teeth whitening may not be for you. Bleaching agents have little to no effect at all on the materials used to create these restorative products.
If you would like to discuss whitening your teeth with us, call today to make an appointment. To learn more about the various teeth whitening procedures, read the Dear Doctor magazine article "Teeth Whitening: Brighter, Lighter, Whiter…"
By Abington Family Dentistry, PC
January 05, 2013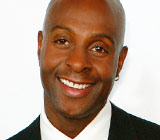 As a Pro Football Hall of Famer and first runner up on the hit television show Dancing with the Stars, Jerry Rice has a face and smile that truly has star quality. However, that was not always the case. During an interview with Dear Doctor magazine, the retired NFL pro discussed his good fortune to have had just a few minor dental injuries throughout his football career. He went on to say that his cosmetic dentist repaired several of his chipped teeth with full crowns. Rice now maintains his beautiful smile with routine cleanings and occasional tooth bleaching.
If you have chipped, broken or missing teeth, or are considering a smile makeover, we want to know exactly what you want to change about your smile, as the old adage is true: Beauty is in the eyes of the beholder. This is one reason why we feel that listening is one of the most important skills we can use during your private, smile-makeover consultation. We want to use this time to ensure we see what you see as attractive and vice versa so that together we can design a realistic, achievable blueprint for your dream smile.
For this reason, we have put together some questions you should ask yourself prior to your appointment:
What do you like and dislike about the color, size, shape and spacing of your teeth?
Do you like how much of your teeth show when you smile and when your lips are relaxed?
Are you happy with the amount of gum tissue that shows when you smile?
Do you prefer a "Hollywood smile" with perfectly aligned, bright white teeth, or do you prefer a more natural looking smile with slight color, shape and shade variations?
To learn more about obtaining the smile you want, continue reading the Dear Doctor magazine article "Great Expectations — Perceptions In Smile Design." Or you can contact us today to schedule an appointment so that we can conduct a thorough examination and discuss your cosmetic and restorative dentistry treatment goals. And if you want to read the entire feature article on Jerry Rice, continue reading "Jerry Rice — An Unbelievable Rise To NFL Stardom."